Full Colour Innercircle
Full Colour Innercircle boeken?
Full Colour Innercircle – Powered by global DJ La Fuente
Welcome to the ultimate entertainment experience. A nonstop flow of colourful sounds and endless energy!
Full Colour Innercircle has got 'the feel good factor' written all over it. Unique in style, energetic in vibes and original in sound. Entertainment at it's best. Uplifting, sexy and smile-inducing. A story we tell with a virtually unparalleled energetic stage performance, unique theatrical acts, special effects and the best funky vibrations. It's a story we tell.. Colour is our signature!
The mission:
Move the crowd and create unforgettable moments by sharing inexhaustible energy and exceed expectations. In the end, things end but memories last forever.
'FULL COLOUR' SPEAKS ALL LANGUAGES
Areas are packed and popping. We take our visitors by the hand and guide them through our colourful world. We tell our story together from the start and grow a very special atmosphere. We approach the night as a theater experience, with a unique experience in vibe, energy and sound as a result. That's the spirit behind 'Full Colour Innercircle: Colourful vibes, funky vibrations..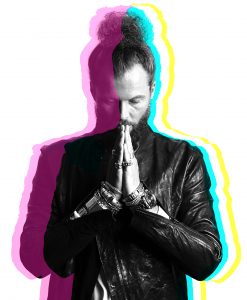 All that glitter is gold..
A WORLD FAMOUS DJ. 
COLOURFUL, ARTISTIC AND DARING.
FOR BUSINESS/CORPORATE EVENTS.
EFFORTLESS, STRAIGHTFORWARD.
WHERE VIBES COME TOGETHER.
IT'S FULL COLOUR INNERCIRCLE.
POWERED BY: LA FUENTE
About La Fuente:
Last year La Fuente pushed his limits. With 350 shows he traveled the world and left behind a great trail of club and festival sets that have captured the hearts and souls of the fans. During this summer's festival season he did 90 shows and took 60 flights in 65 days. People across every global territory like europe, us, asia and south america were amongst the lucky people that experienced his energetic performances.
La Fuente has a very unique sound; The best funky vibrations; uplifting, energetic and smile-inducing. His excellent knowledge about the current wave of dance music, his fearless attitude when it comes to experimenting with new records and mixing styles way before his competition did, has definitely paid off!
This DJ is a true artist, always bringing an amazing vibe to the stage and tearing the roof apart, every single time – this might explain why promoters and fans all over the world love him so much.
La Fuente tells the colourful story with an exclusive solo show supported by an MC. A true dream team. La Fuente is born and raised in the Netherlands, he learned about electronic music at an early age. After dozens of national gigs, he started touring in other countries as well.
Now, after performing and entertaining for more than 15 years on national and international stages, La Fuente breeds very passionate followers and his gig list stretches the whole planet.
CORPORATE BOOKINGS
BURO2010 –  info@buro2010.nl – 036-7600140
PUBLIC BOOKINGS
010 BOOKINGS – dounia@010bookings.com – 010-7620706
Prijs Full Colour Innercircle boeken?
Wilt u Full Colour Innercircle boeken of inhuren voor uw personeelsfeest, bedrijfsevenement, productintroductie, relatie-event of privéfeest? Bent u benieuwd naar de prijs van een optreden van Full Colour Innercircle en de beschikbaarheid van Full Colour Innercircle?
BURO2010 is het directe en exclusieve boekingsbureau voor de besloten boekingen van Full Colour Innercircle. Neem contact op via info@buro2010.nl. U ontvangt nog dezelfde dag een vrijblijvende offerte voor een optreden van Full Colour Innercircle.
Wilt u andere bekende DJ's boeken of inhuren bekijk dan ook de DJ's op onze portal www.artiestenburo2010.nl